Junk and Trash Removal Upton, MA | Junk Ryde
Junk and Trash Removal Upton, ma – junk ryde with best prices, quality and professionalism to remove your trash? We offer Residential and Commercial Services in upton, ma. Just give us a call, 508-315-2005. Best prices, Best services and Best team. We are so happy to meet you. Junk Ryde "Let's Take Your Junk For a Ryde.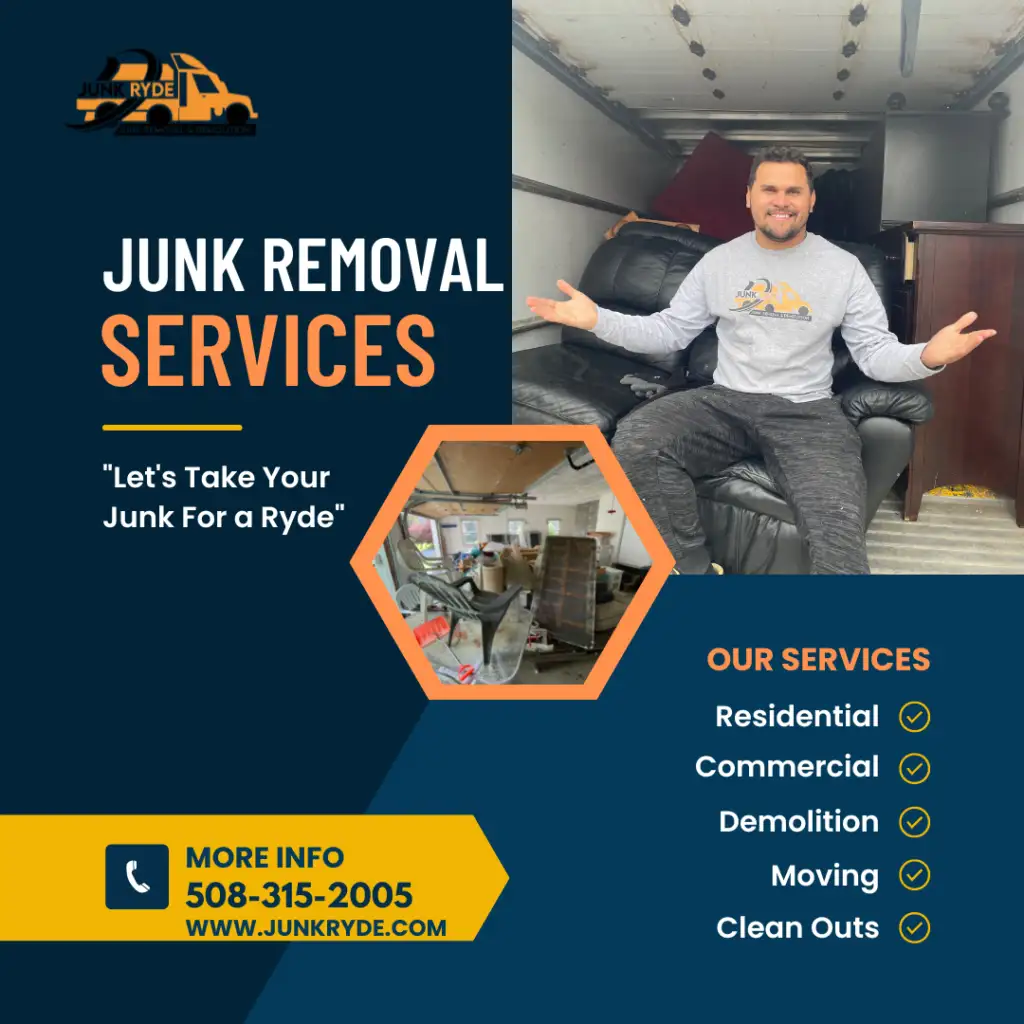 Junk Ryde is a family owned Local Junk removal Business. We are Licensed and Insured with 5 stars reviews on google. We offer full junk removal services; Including but not limited to: Junk Removal of Residential, Commercial and Demolitions.
Our services range from a single item pick up to a full truck load. We have a 16 foot box truck ready to go anytime and anywhere for the satisfaction of our customers.
We do all the work, loading, cleaning up, and hauling away, our team is ready for any job. The process is quick and easy, just call or text us a picture and we will provide a free estimate for the job.
Junk Ryde takes your junk for a ryde for Affordable prices. For more information follow us on our social media pages; Facebook and Instagram or access our website.
We are so happy to meet you !!!!
Before we can give you am exact price, our team need to see in person which items you get or you can book online and send us some photos about you junk. If you happy with our price, schedule the day and time for remove your items. Junk Ryde always on time, load them into our truck and sweep up the area.
Let's Take You Junk For a Ryde
We Offer is full service junk removal and demolition company around Auburn, ma. Our service ranging from a single item pick up to full house cleanout. We offer demolition services as well hot tubs, swing sets, pool tables, sheds. Do you have some demo throw it away, make sure to call for us or book online.
Junk Ryde take your junk for a ride for Affordable prices, our team are professional, trained and experienced, and polite. We are proud to serve residential and commercial clients. We are Local Business Licensed and Insured and 5 star reviews on google.
We are focused on Social Responsibility our planet, this is our Mission. Our Company Recycle almost 2 tons of plastics, cardboards and more.
We offer a Minimum to Full Load Pricing, but for more loads our price by how much space your itens take uo in the truck. We have the best services and prices, we make sure our customers will be happy and Safety.